Description
Located within the centre of the City of Sydney and bordered by Elizabeth and College Streets, Hyde Park adjoins the City's CBD, The Domain and Cook & Phillip Park. William Street divides the park into two portions. The Anzac War Memorial, Archibald Fountain and Sandringham Gardens are the major built features within the park.
A grand avenue of Hill's Weeping Figs extends from St James Road to Park Street (Hyde Park North) and continues on to the Pool of Reflection (Hyde Park South).
Apart from the scheduled significant trees, the park has a variety of trees that contribute to its character and unique qualities. Many of these are trees that date to early periods or are botanically interesting but are not considered significant in their own right.
Some are listed as examples Queensland Firewheel Tree (Stenocarpus sinuatus), Peepul or Bo Tree (Ficus religiosa), Brush Box (Lophostemon confertus), London Plane (Platanus x acerifolia), Outeniqua Yellow-wood (Afrocarpus falcatus) (syn. Podocarpus falcatus), Holm Oak (Quercus ilex), English Oak (Quercus robur), Bartram's Hybrid Oak (Quercus x heterophylla), Washington Palm, (Washingtonia robusta), Canary Island Date Palms (Phoenix canariensis), Senegal Date Palms (Phoenix reclinata), Date Palms (Phoenix dactylifera), Wild Date Palm (Phoenix rupicola or sylvestris), Jelly Palms (Butia capitata) and Cabbage Tree Palm (Livistona australis).
Significance
Hyde Park, gazetted by Governor Lachlan Macquarie in 1810, is the oldest public park in Australia. The park has a rich history of public building, landscaping and embellishment and contains an outstanding collection of significant trees. It is scheduled on the State Heritage Register, in the City of Sydney Local Environmental Plan 2012, Sydney City Heritage Study and classified by the National Trust of Australia (NSW).
Many of the older figs and Araucarias dating from the mid- to latter part of the nineteenth century have individual as well as broader group significance at the City/ LGA level in terms of their visual, historic and social values.
The main avenue of Hill's Weeping Figs, a more recent overlay (c.1930), is considered to have group significance at the City/ LGA level. Refer also to the Hyde Park Tree Management Plan 2006 for detailed information on individual trees and their proposed ongoing management.
Historical notes
During the 1830's Hyde Park served as the outlet for Busby's Bore. Between 1827 and 1856, the area of land north of Sandringham Gardens, known as the British Lawn, was used as a cricket ground. The first planting in Hyde Park, under the direction of the Superintendent of the Botanic Gardens began 1837. Allan Cunningham ordered five hundred trees for Hyde Park and the Domain. These were planted in a fenced plantation along either side of the new avenue, initially named 'Bourke's Avenue'.
A writer in The Sydney Monitor noted that it was 'the first attempt at ornamental planting for the public on a large and expensive scale, which has taken place since the foundation of the colony' (The Sydney Monitor 22 December 1837). The plantation struggled through drought and exposure and the oaks chosen were slow growing. However sufficient trees survived to provide the fenced avenue through Hyde Park some ornamentation (Thomas Lewis, Hyde Park, The Old Days of Merry Cricket Club Matches c.1843 Dixson Gallery, SLNSW).
Charles Moore, the Director of the Botanic Gardens was appointed to the Hyde Park Improvement Committee when it was formed in 1854. In 1857 Charles Moore chose his favourite Moreton Bay Fig, (Ficus macrophyllla) alternated with Aleppo pine (Pinus halepensis), while also keeping English Oaks. Groups of principally Australian rainforest trees were planted and Norfolk Island pines planted here and there 'for effect' (The Sydney Morning Herald 19 September 1857, 9). This palette of predominantly Australian trees set the horticultural scene for the choice of planting palette following the remodelling of the park in the late 1920's. The Botanic Gardens staff were involved in the choice of trees–in particular Mr Edwin Cheel and Mr E.N. Ward, Superintendent, who was a great proponent for Ficus microcarpa 'Hillii" (Ward, Edward Naughton, The Oxford Companion to Australian Gardens, p.627)
It is believed that the boundary row plantations and central avenue of mixed Moreton Bay Figs (Ficus macrophylla) and Port Jackson Figs (Ficus rubiginosa) were therfore added in the late 1850s including the row of four Moreton Bay Figs and two Port Jackson Figs (parallel to the central avenue of Hill's Weeping Figs) within Hyde Park South. Further individual remaining specimens of Moreton Bay Figs from this period are scattered around the park boundaries. These magnificent trees are important historic features of the Sydney city landscape. The figs are integral components of the city's cultural heritage of civic planting schemes dating from this period.
Some of these Moreton Bay Figs have achieved exceptional proportions (eg. near the entrance to St James Station – Elizabeth Street) and are comparable to the size and scale of other significant plantations in The Domain, Moore Park/ Anzac Parade, Wentworth Park, Victoria Park and Green Park. It is also important to recognise that this is an ageing population of trees requiring an ongoing plan for tree management and replacement (refer to Hyde Park Management Plan). These figs also continue a lush, native evergreen/ rainforest theme and associations with Charles Moore, Guilfoyles, Macleays and other pre-eminent botanists, plant collectors and gardeners of this time.
These early Moreton Bay Figs were accompanied by a range of other planted species, particularly the emergent Araucarias. A photograph taken c.1880 shows a row of trees (unknown species) lining a pedestrian avenue in Hyde Park (near present day College Street – Hyde Park South). In the background, a number of Araucaria spp., a Norfolk Island Pine (A. heterophylla), and Hoop Pine (A. cunninghamii), are clearly visible with the Captain Cook memorial in the distance. Immature Canary Island Date Palms are also important components of this eclectic mix (refer to Figure 6.1.4)
The Cook Pines (Araucaria columnaris), Hoop Pines (Araucaria cunninghamii) and Queensland Kauri Pines (Agathis robusta) were possibly planted during latter phases of development (possibly nineteenth to early twentieth century). Nevertheless, these are outstanding botanical and landmark specimens of high visual significance, particularly those located as a group near the Cook Memorial (Hyde Park South). These tall, emergent pines provide a dramatic sense of scale to the gardens. These Pacific Island and native rainforest species were often planted in mixed groups.From 1876 to 1905, the park (Crown land) was managed by Park Trustees who were given the duties of effecting improvements and maintenance to the park, drafting regulations and determining appropriate management and uses. In 1905, control and management of the park was passed over to Sydney Municipal Council.
Between 1919-1926, the underground railway, including railway stations at St James and Museum, were constructed. This work had major implications for the original layouts and existing significant trees. Many of the original Moreton Bay Figs were removed at this time and during the latter phase of development in the 1930's for the Shrine of Remembrance (Anzac War Memorial). Although many trees were lost to this phase of work, a photo taken during the Inter-War period (no date) shows that Moreton Bay Figs were retained along the park boundaries (refer to Figure 6.1.5) These trees have continued to define much of the park's character since the mid- to late 19th century.
Hyde Park also contains a vast range of individual specimen planting which is scattered throughout the open spaces. Most of the palm components date from the late nineteenth century to the early twentieth century (including the Inter-War period). They are integral components of the broader collection of significant trees.
The park's existing formal layouts and avenues were designed by Norman Weekes, winner of a design competition for the redevelopment of Hyde Park in 1926. The avenue of Hill's Weeping Figs are one of Sydney's iconic landscapes. This avenue together with the Archibald Fountain and War Memorial would be one of the most photographed locations in Sydney.
The collection contains by far the greatest number of specimens of this species of any park or street plantation within the City of Sydney LGA. These trees create a memorable landscape quality with massive, arching and interlocking canopies over the pedestrian pathway. The figs, standing between 18-22 metres in height, visually dominate this central formal axis of the park and provide a dramatic backdrop to the City's skyline.
Unfortunately, a number of these trees are now in decline. Over recent years, a number of these figs have been removed following investigations which revealed the presence of soil-borne disease causing root rot. Fungi including Phytophthra cinnamomi, Armillaria luteobubalina and Phellinus sp. have been identified in the soil. The trees are currently being monitored and removed as necessary, and a program of block removal and subsequent replacement with the same species has begun.
Gallery
Hill's Figs
Hyde Park in the 1930's the avenue removed and replaced during City Circle railway construction (Source : CoS Photo Archives)
Hyde Park Central Avenue was at its peak in the late 1990's
Hyde Park (undated) believed to be Inter War period sometime in the 1930's or 40's
Hyde Park and Elizabeth Street in 1909 (Source : CoS Archives)
Moreton Bay Figs
Poplar and Eucalypt
Kauri Pine
Hill's Figs
Hill's Figs
Mixed planting
Hyde Park in the 1920's commonly known as"Lovers Walk" (Source : Nation Library of Australia - nla.pican24616751)
Hyde Park circa. 1880
Early Moreton Bay Figs in Hyde Park January 1871 (Source : National Library of Australia)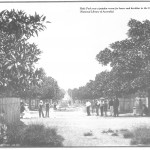 Map
Close